DIY hog roast hire based in Carmarthen and Cardigan area.
As part of the HHR Catering DIY roast hire service we don't just deliver our roast machines, we will also show you how it works on delivery. our DIY hog roast hire service across Wales is second to none as we only have quality hog roast machines available for hire making us your first choice for quality Catering equipment hire Carmarthen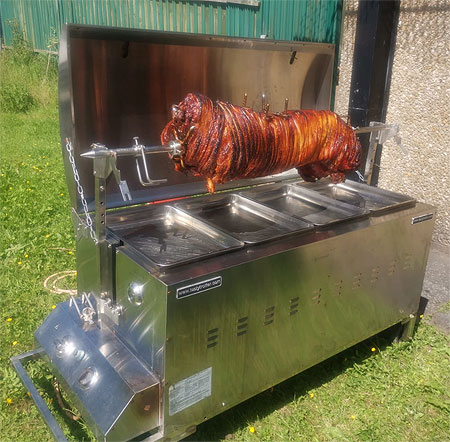 Most hog roast companies do not provide these services so rest assured with us you are in safe hands. So, if you're either running on a tight budget or just want to do some show off to your friends, give us a call today?
DIY hog roast hire specialist
HHR Catering has 2 options for your DIY Pig Roast catering equipment hire.
Here at HHR Catering Machine Hire Wales, we provide high-quality machines for your own personal use. One popular use of our hog roast machine hire West Wales is for personal parties. One of the most difficult things to organise at a party is catering. We want to make it as simple as possible for you to provide excellently and hassle-free food for all your guests.
Catering equipment hire carmarthen
Whether you are planning a small get together for you and a few friends or a huge house party for you and your class hiring a hog roast machine is the perfect way to cater to your guests. There is no party too big or too small; our hog roast machine hire Carmarthenshire is perfect for all occasions.
Why not hire a pig roast machine and do it yourself!?
With our choice of top of the range pig roast machines/catering equipment, you can make a day of it!
Hire the pig roast machine with pig already cooked
This just leaves you to serve and Carve the pig yourself. Bring out the inner chef in you!

Various catering equipment for hire so please ring us to discuss your requirements.

Of course, if you do decide that you want HHR to take care of the cooking and serving your roasted pig then contact us today.


Our diy hog roast hire rules
We collect clean = No charge to you
We collect dirty = You are liable for a charge
f you require any fun hire equipment then please vist https://funhirewales.com