Crêpe catering for weddings, parties, and events across Wales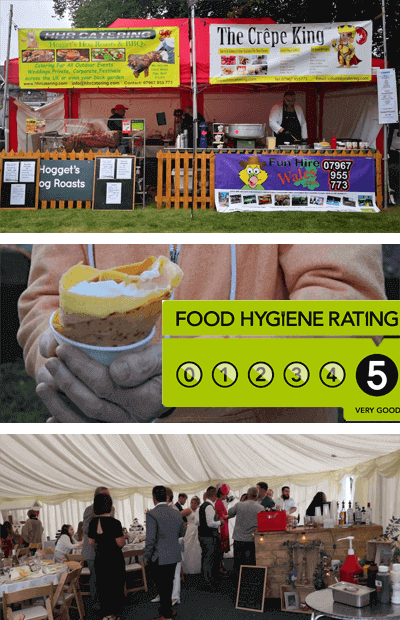 Looking for something different at your Wedding, Party or Event? Based on our experience here at HHR Catering we know that Crêpes make a fantastic and novel catering idea. Our entertaining service and delicious fresh Crêpes are sure to add the wow factor, making a perfect accompaniment to your special day. Our vast and exciting menu options allow you to choose fillings that can be personalised to you and your guests; we also have an equally delicious gluten-free crêpe mix available on request. We bring the Crêpes to your event with our Mobile Crepes Catering and Crepe Bar service.
We also have started a sister catering company for food festivals, events and weddings etc across Wales call The Crepe King. Look out for the mobile Crêpe catering service on your travels. you can follow The Crepe King on Facebook here. The Crepe King is part of the HHR catering group serving buffets, barbecues and our famous hog roasts on a spit and mouth-watering gourmet sausages and burgers all at 5-star hygiene rated level to event events and parties in Carmarthen, Swansea, Llanelli, Ammanford, Cardigan, Aberystwyth, Lampeter, Llandeilo, Narbeth, Bridgend and Cardiff
HHR Catering understands the stresses that come with planning an event and therefore our adaptable set up works perfectly around you. Whether we are serving outside or indoors we do all the work so that you and your guests can simply relax and enjoy yourselves.
Delicious and fresh Crêpe catering service Wales
We make delicious handmade Crêpes in front of you and you may choose any feelings that you want all products are: Sweep Crêpes
Fresh strawberries
Bananas
Banoffee
Baileys
Melted terries choc orange
Marshmallow
Nutella chocolate sauce,
Sugar & Lemon
Salted Caramel
Toffee Sauce
Crêpe catering for weddings
HHR Catering provides a unique and quirky alternative to sweet trolleys and chocolate fountains at your wedding, serving sweet and savory crêpes tailored to the bride and groom's taste and cooked on the spot. We can serve Crêpes indoors or outdoors depending on your preference.
HHR Catering offers an affordable, all-inclusive live crêpe bar for your wedding with friendly outgoing staff.

Flexible set up inside or outside any venue as well as personalised setup & menus to fit in with your theme for the day.
We find wedding couples often choose our crepes to be served as an exciting alternative to canapés, after the ceremony and before the wedding breakfast. We also offer wedding catering such as buffets, bbq, and hog roast catering.
Various packages are available, to be served to guests after the wedding ceremony and/or during the evening do.
Here are some savory crepe menu ideas:
Cheddar, Ham & Pineapple
Mozzarella, Tomato & Mushroom
Cheddar, Spinach & Red Onion
Cheddar, Sweet Corn & Wild Rocket
Each crepe catering hire package comprises:
Mobile crêpe station.
Two crêpe makers for speedy service.
Choice of sweet and/or savory crêpes tailored to the bride and groom's taste.
We use the finest ingredients and can tailor our menus to suit your pocket.
Aprons for the new bride and groom to share their first crêpe.