Surfboard Simulator hire along with wave themed crash mat across Wales
Thanks to HHR Catering, Surf Simulator Hire, the surf is always up anywhere anytime across Carmarthen, Ammanford, Llanelli, Aberystwyth, Llandeilo, Cardigan, Newport, Swansea and Wales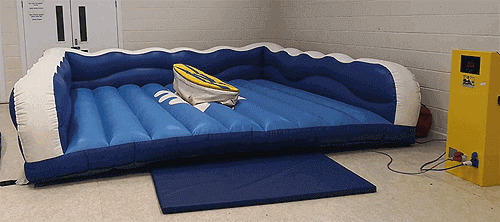 Suitable For Indoor & Outdoor Use, it never fails to entertain all ages.
Hire our fantastic Surf Simulator and provide as much amusement for the spectators as it will for the rider.
Our surf simulator lets you test your surfing' skills to the max of your abilities to impress your guests, friends and onlookers..
Start off with small 'waves' feeling the board rock beneath your feet. As your confidence grows the 'waves' get bigger you're rocking faster and now you start to cut up the waves as the board rides the waves. When you do loose your balance your guaranteed a soft, dry landing in our water and wave themed inflatable bed with a safety retaining wall.
Hawaiian / beach themed party hire items to complement Surf Simulator
Since we are a one-stop-shop catering company we also can offer BBQ catering to accompany either the surf simulator on its own or as a package along with the Hawaiian palm tree slim n slide hire. The choice is yours! Imagine the fun for everyone be it a family celebration, promotional event, or pub or caravan club evening do.
Surf Simulator Hire works very well with any beech theme party's and people usually get dressed up in their beachwear, Bikini's, flowered shirts and grass skirts etc..
Once all the practice is over pit your skills against your colleagues by choosing one of the 3 set programs from 'gentle wave to a Tsunami' where each rider experiences the exact same ride and individual times are displayed on the scoreboard.
Our highly trained staff ensure that no rider is pushed beyond their limitations and everyone has fun and enjoys the thrill of balancing on the Surf Simulator.
The unit stops the instant the operator's hand leaves the controls. A safety stop switch is also available to the operator.
Surf Simulator Hire ideal For
* PARTIES
* RECEPTIONS
* THEMED EVENTS
* FAMILY FUN DAYS
* PROMOTIONS
* SCHOOL FATES
* CLUBS/PUBS
* CORPORATE WORK
* WEDDINGS
* HEN AND STAG PARTIES
* ANY OCCASION / EVENT YOU WANT TO CREATE!
Carmarthenshire based Surf Simulator Hire safety notes
Our Surf Simulator Hire is always supplied with an experienced ride operator, who will run the ride on your behalf for the time you require and will supervise for the whole event. The speed of the Surfboard Simulator is controlled at the discretion of the ride operator which makes this ride suitable for both adults and children. Can be staged indoors/outdoors to suit your requirements subject to weather conditions, type of ground and venue. We can supply a generator which is ideal for outdoor events or the hirer can supply their own electricity (indoor events). We will require a minimum set up time of 1 hour. We provide a Nationwide Service 7 days a week, hire can be on a hourly, daily, weekend or longer term basis (please ask for our special rates). Our fees are very competitive and are fully inclusive £1 million Public Liability Insurance and can provide a copy at the event. All our representatives are polite, friendly and will conduct the event in a professional manner. Operating to a Code of Conduct and Duty of Care and fully conversant in all safety aspects. Moreover, creating a FUN, FUN time for all riders and spectators
We can supply petrol generators for your event where there is no access to mains electricity.
This may be because the event is a school fete for example and it would be unsafe to have extension cables running in areas where the public are walking or the equipment is required to be set up too far from any buildings that house electricity sockets.