Sweeper Last Man Standing hire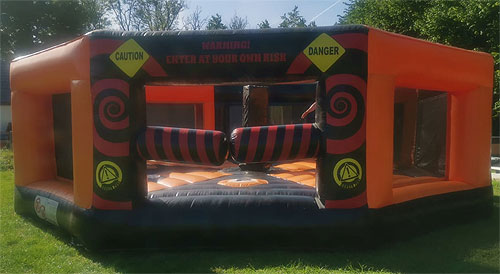 Inflatable Sweeper Last Man Standing hire in Carmarthenshire, Llanelli, Aberystwyth, Newport, Llanelli, Swansea, Llandeilo and Cardiff from HHR Catering
Suitable for: Kids and Adults
set up and pack down time: we require 45 min set up and 45 min pack down.
Sweeper hire is king
The Last Man Standing is one of our top hire items of 2022 with everyone having enjoyed playing this great total wipeout attraction and still to this day is one of our number one hire items.
Our Sweeper Last Man Standing hire holds 8 players who will battle it out to be the last man standing. The game is simple all you have to is jump over the low inflatable beam and don't forget duck under the second beam. Once a player has been touched or taken out by the high or low beams they are out of the game and the winner is the last one standing. A trained team Sweeper operator will be controlling the speed and direction to catch you out and send you flying in the air.
This is the ultimate sweeper game for all ages from 9 years upwards.
With 8 players at a time trying to jump over the inflated pole, this is a very challenging and energetic game as the pole spins faster and faster and you have to try and jump higher as well as faster.
This is a fully staffed activity for up to 4 hours run time.
Sweeper Last Man Standing hire is always one of the most popular items so booking early is recommended.
It's a knockout theme hire
If you are a sports club, school, university or any kind of charity that requires large fun, yet competitive fun hire items across Carmarthen, Swansea, Cardigan, Cardiff, Aberystwyth, Haverfordwest areas then in addition to Sweeper Last Man Standing hire, we recommend bungee run and the large obstacle course hire options.